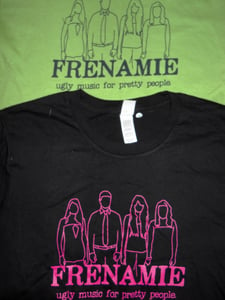 $

5.00 - On Sale
Lime Green with Navy Blue decoration or Black with Hot Pink, these t-shirts are both 100% cotton. The Lime is Gildan brand and Uni-Sex made of pre-shrunk cotton. The Black is comfort soft cotton.
Both display the frenamie outline and tagline Ugly Music for Pretty People.
If you need it shipped please let us know. Otherwise, we'll assume you're picking up at a show. Shipping will incur an additional charge.